Europak GreenLine ®
Europak Oy has been awarded the Europak GreenLine ® trademark, under which the company manufactures recycled plastic canisters and bottles. Europak Oy's modern machinery enables the use of 30 – 100% recycled plastic in the manufacturing process in products for which the existing legislation currently allows without compromising product safety.
Most plastics are recyclable and the plastic material can in principle be recycled indefinitely as long as the collection and sorting is handled properly. The HDPE Recycled Plastic we use is a versatile raw material that is mainly made of household plastic packaging waste (PCR).  At present, approximately 27.5% of plastic consumer packaging is collected and recycled in Finland. The target placed under the EU directive will be at least 50% in 2025.
The best way to reduce the carbon footprint of plastic products is to control your own process by increasing the amount of recycled plastic in products and using renewable energy instead of fossil fuels.
Our company will reduce CO2 emissions by reducing electricity generated from fossil fuels and switching to 100% zero-emission, renewable wind power in early 2024.
It's important to know product's life cycle to control emissions in the production chain and reduce the impact on the environment.
Our contact persons would be pleased to give you more information about the life cycle and carbon footprint calculation of our plastic products!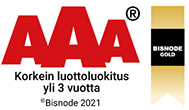 Tallenna