Emballator acquires Finnish Europak Oy
2023-06-30
Emballator, a leading packaging solutions provider, announces its acquisition of Europak Oy, in a move that strengthens its presence in Northern Europe. The completion of the transaction is subject to customary closing conditions and is expected to occur on September 1st, 2023.
Europak is serving customers in various industries like chemical and food, with blow-moulded plastic packaging, mainly canisters. Europak was founded in 1980, is based in Espoo, Finland and is currently owned by Finnish investment company Korpi Capital Oy and Harri Laaksonen, Europak's MD.
"The acquisition will strengthen our position in most of all Finland and the Baltics and that is fully in line with our strategy to become the natural choice of packaging partner in the Nordics and northern Europe", says Kent Viitanen, CEO of Emballator Group AB, and adds:
"We invest purposely in sustainable growth and being close to our customers is important."
Europak will work closely with Emballator Mellerud which has similar and supplementary products.
"Europak will be an excellent complement to Emballator Mellerud, and we look forward to developing and expanding our product and sustainability initiatives together with our new colleagues and customers", comments Joakim Johannesson, MD for Emballator Mellerud.
Europak, with an annual turnover of just over 8 million euros and 18 employees, will retain its key personnel, including MD Harri Laaksonen. The purchase price has not been disclosed.
"Emballator's new innovation center gives the company excellent development opportunities of new recycled plastic materials and new production techniques. We are proud that we have found a reliable partner in Emballator that wants to grow to the next stage with our customers and employees", says Harri Laaksonen.
"Collaborating with Emballator, an established player in the industry, has been a pleasure throughout the transaction process. While Korpi Capital's investment strategy is focused on long term ownership, together with our co-owner Harri Laaksonen we concluded that partnering with Emballator is the right choice for Europak", states Mikko Fischer, Chairman of Europak and partner at Korpi Capital.
ABOUT EMBALLATOR
The Emballator Group offers a wide range of packaging solutions, with a variety of products in different materials, for market segments such as paint, chemicals, pharmaceuticals, food, beauty and personal care. The Emballator Group has around 900 employees and an annual turnover of approximately SEK 2,500 million. The Group is divided into three business areas, Emballator Metal Group, Emballator Packaging Innovations, and Emballator Packaging UK, and has 9 manufacturing units in Sweden, Finland, and the UK.
Read more at Emballator.com
ABOUT KORPI CAPITAL
Korpi Capital Oy is a Finnish investment company founded in 2013. The portfolio of Korpi Capital includes 26 companies, with a combined revenue of EUR 219 million, EBIDTA of EUR 41 million and a workforce of ca. 760 employees.
Read more at en.korpi.fi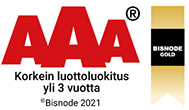 Tallenna